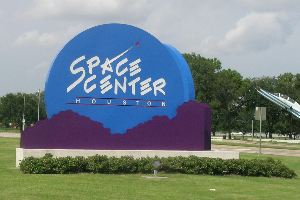 Space Center Houston and NASA Johnson Space Center are two independent yet closely related entities. Johnson Space Center is the largest research, production and control center for space exploration missions in the United States. Most of the rockets and space shuttles are launched in Florida, but all of them are controled right here in Houston once they enter into orbit. This is why the first word the mankind uttered on the moon is "Houston". Even now we sometimes joking "Houston, we have a problem!".
Space Center Houston is the most attractive tourist destination in Houston area. It is specially designed for tourists wishing to take a glimpse of the secretive space programs and achievements.
There are many precious artifacts in the center, like the return capsule of the Appolo moon landing, the Saturn rockets that carried man onto the moon, moon rocks that you are allowed to touch with your own heads. They also have high tech demonstration of rocket launching and moon landing, many of them are interactive.
There are three films (total of 95 mins) on space exploration, moon landing and space travel. These films are very educative and are good for children as well as adults.
Inside the space center, you also have the chance of boarding a train to tour the NASA Johnson Space Center, to the press conference site that when the first moon landing was announced to the world. It is outside and everything was perserved as it was originally.
Where to stay There are plenty hotels near the space center and Kemah area, some are just off the Clear Lake and Galveston Bay. You may search hotels near Space Center Houston on map, so that you can find a hotel at the exact location you want.
Tips: The train to NASA Johnson Space Center and the Rocket Park runs every 20 mins. It is often crowded and you may have to wait for a long time. Take the train tour early to avoid the crowd.
Inside the space center there is a place that they take pictures of everyone who go by. The pictures, which space shuttles on the back, costs more than $10 each. If you do not plan to buy the picture, you may bypass the picture station.
Space Center Houston is located on the 25 mile southeast of downtown Houston, by Hwy I-45. The address is: 1601 NASA Road 1, Houston, TX 77058; Tel: 281-244-2100.
There are three buses from downtown bus transient station to Space Center Houston (Bus 244, 246, 247). The ticket is $3-3.50, and it takes about 80 mins to get there.
Hours: 10am to 5pm (7pm on weekends)
Ticket Price: $18.95 for adults, $14.95 for ages 4-11, $17.95 for seniors (65 or older). Parking fee is $5.00.
Coupon: space center web site has a $2.00 coupon you can print (see link below).
Link: Space Center Houston, Search hotels near Space Center Houston on map, Hot hotels in Houston, Other Attractions in Houston