Climate
History
Interactive Map
Restaurants
Hotels Listing
New! Hotels on map
San Antonio hotels
USMLE CS hotels
Attractions
Downtown
Museum District, Theater District
Texas Medical Center
Galleria
Moody Garden
China Town
Zoo
Port of Houston
---
Activities
---
Discount movies
---
Contact us
Joyce Realtor: buy and sell house in Houston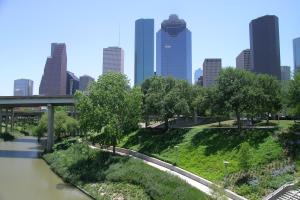 Weather and Climate
Houston is in the South of United States, only 50 miles from the Gulf of Mexico. The land in Houston area was formed by deposits from the sea and river, thus it is very flat and rarely any hills. The climate in Houston is warm and muggy -- it starts hitting 90's F (33 C) from May and continue all into October. The highs during the summer is usually in the mid-90's (32-36 C), with 7-10 days above 100 F (38 C). Often the days with the highest temperatures are around Labor Day, which is the first week of September in US. Entering into October, you will notice the "cool" down in Houston. The winter in Houston is pretty comfortable. There are 7-10 coldest days at the end of January, the temporature may drop below 32 F, or 0 C during the night, but will warm up quickly during the day. It rarely snows in Houston. The last time it snowed was Christmas Eve of 2004, so you may have to wait another 10 years to see snow in Houston.
Transportation
Although Houston has two major intersatate highways, tourists come to Houston mainly via one of the three airports. The Bush-Intercontinental Airport (IAH), located in northern Houston replaced Hobby Airport (HOU) in the south side of the city as the major airport of Houston, although Hobby still plays an important role. Ellington Field, near Clearlake, offers another choice.
As compared to metropolitans of similar sizes, Houston's ground transportation is not as convenient to tourists, partly due to the size of Houston and partly due to the lack of coordination and planning. The bright side is that major attractions in Houston are within 2-3 miles away in places that transportation is acceptable.
Metro Rail, only 7 miles for now, connects the downtown area with Texas Medical Center and Astrodome (Reliant Center). Metro buses run all over the city, but just as in other cities in US, they run at intervals of 30-60 mins. If you plan to take a bus, be sure to plan ahead with routes and timing.
From Bush Intercontinental Airport to downtown or Texas Medical Center, taxi fare runs about $50, van costs $20 per person, and metro bus only costs $3 to downtown.
Miller outdoor theater Aug. 24-25, Opera Madame Butterfly; Sept. 2, India Bollywood Blast (music)
Major Activities
Jan: Houston International Marathon
Feb: Galveston Mardi Gras, Houston auto show
Apr: Texas state flowers, Washington county, about 90 mins from Houston on the northwest;
Houston International Festival.
May: Art Car Parade, 2nd or 3rd Saturday, near downtown and Allen Parkway. (art car pictures)
Jun: Juneteens, celebrating the free of slaves in houston on June 19, 1865 (third Saturday) กก
July 4: Independance Day fireworks show (Bafflo Bayou or Herman Park)
Early Aug: Houston Shakespeare Festival, Miller outdoor theater.
Late Aug: Ballunar Liftoff Festival, near Space Center (pictures)
Oct: Wings Over Houston Air Show, Arlington Field (link)
Nov: last Thursday, Thanksgivings Parade
Dec: Holiday Lights, Christmas Parade.
History
Houston was established 1836, by the Bafflo Bayou near downtown, but it emerged as a major city in Texas only after the 1900 hurricane hit Galveston. From then the industrial and commencial center in southern Texas shifted from Galveston to Houston, and Houston gradually rose to No. 4 city in the US, the biggest energy center, airospace center, and with one of the busiest ports.
People
Latest poll shows that Greater Houston has a total population of 5 million, more than half of them being white. Due to its proximity to Mexico, Houston has a large hispanic population (30%). African american population is also much higher than national average. Asians counts for about 6%.
Restaurants
Houston's food is so diverse that you can find almost everything here. But compared to other US cities, Mexican style food and Texas steaks are special here. There are many small restaurants in the Montrose area near Hermann Park and Museum district, and in Rice Village near Rice University. Houston is also one of the best US cities to offer authentic Chinese foods in its China town on west side of the city.
Universities
Major universities in Houston include Rice University, University of Texas Health Science Center, University of Houston, Baylor College of Medicine, Texas Southern University, Houston Baptist University, etc.
Related Links