Search Hotels on map: Washington County, Texas (Bluebonnet)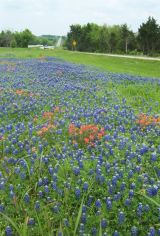 Washington County is located between Houston, the biggest city in Texas, and Austin, the state capital. The first capital of Texas Republic is in Washington county, the now Washington-on-the-Brazos State Historic Site. Apart from the birth place of Texas, it is most famous for its wild flowers, the Texas state flower: Bluebonnet. Each spring, people come from all over the world for these beautiful flowers.
The most famous viewing area is between Brenham, Chappell Hills and Brenham, and Lake Somerville. The best time is between March 20 to April 20.
Inside this area, there are not many hotels available. But you can always drive a little bit further. After all, what else can be better than a hotel away from the city and close to the beautiful bluebonnets and indian paintbrushes?
How to search hotels on this interactive map
Move and zoom, so that the map view shows the area of your interest.
Click search hotels on map, all hotels in the map area will be shown.
Click on the hotel marker or use the hotel list to find hotel details.
Just that easy! You find your hotel at exact location you want, at the best internet price, guaranteed!*
Search Low Fare Flights to Houston
Texas hotel maps: Abilene, Amarillo, Austin hotels, College Station hotels, Dallas hotels, El Paso, Galveston, Houston hotels, Lubbock, San Antonio hotels, South Padre Island, Washington County hotels (bluebonnet)
US hotel maps: Houston, New York, Los Angeles, San Diego, Hong Kong, DC, Dallas, Austin, San Antonio, Les Vegas, Ft. Lauderdale, Miami, Miami Beach Orlando, Tampa, St. Petersburg Beach and more
Hotel map search: Canada, Central America, South America, Europe, Africa, Middle East, Russia, South Asia, Asia, Australia, China, Japan, USA